eNews Issue 1
COMPETITION: Win ex-London Flights for Two on the Virgin Atlantic Network!
Enterprise Ireland Trade Missions to the Gulf and South Africa
Should Airlines Ban Babies from Business Class?
Virgin Chauffeur Service Now at Dublin Airport
New C-Class Coupé from Mercedes-Benz
COMPETITION: Win ex-London Flights for Two on the Virgin Atlantic Network!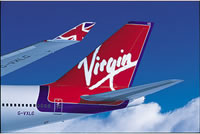 Answer our competition questions correctly and you will be in with a chance to win Business Travel's autumn prize draw for Economy Class return flights for two people from London (Heathrow or Gatwick) to any destination on the Virgin Atlantic route network:
Virgin Atlantic's Red Hot Destinations
Let Virgin Atlantic fly you somewhere fabulous!
USA: Fly to a city on the east coast (Boston, New York, Chicago or Washington) or lie on a beach on the west coast (Los Angeles, San Francisco or Las Vegas) or Florida (Orlando and Miami).
Caribbean: The beautiful islands of St Lucia, Grenada, Tobago, Barbados, Antigua and Jamaica all have a beach for you to stretch out and unwind on, and if the beach isn't your thing there's Havana in Cuba to chill out in.
Africa: Choose from stunning Cape Town or the delights on offer in Johannesburg, Lagos, Accra and Nairobi.
Asia: Virgin Atlantic fly to some exciting destinations, none more so than Shanghai, Hong Kong, Tokyo and Dubai – all of which never cease to amaze visitors. Then there is diverse Delhi to explore.
Australia: Sydney has it all, famous sites, fantastic shops, beaches and a wild nightlife.
COMPETITION
Question 1: What is Virgin Atlantic's business class cabin called?
Question 2: Up to what distance from Dublin Airport (in kilometres) is Virgin Atlantic's new return chauffeur driven car transfer service now available?
Email your answer to: This e-mail address is being protected from spambots. You need JavaScript enabled to view it
Please remember to include your name, your company name, your position and your phone number.
The entrant acknowledges that he/she may receive emails from Belgrave Group Ltd.
Terms and Conditions
Tickets must be used by the winner and a companion travelling together in both directions.
Tickets are non-refundable, non-transferable, and non-endorsable.
The travel period cannot be extended beyond the expiry date.
The tickets must be used by the expiry date.
Once tickets have been issued they are valid for flights/dates shown only.
Lounge passes and upgrades are not permitted with these tickets.
Travel is permitted during the following periods: 10 JAN 2012 – 31 MAR 2012, 16 APR 2012 – 30 JUN 2012, 15 SEP 2012 – 10 DEC 2012.
Please note the above dates may be subject to further embargos.
You will need to send in your original prizewinner letter or your booking will be invalid.
Enterprise Ireland Trade Missions to the Gulf and South Africa

Enterprise Ireland is planning a trade mission of Irish companies to the Kingdom of Saudi Arabia and Qatar starting in October. The Minister of State Jan O'Sullivan will lead the delegation that will include companies from the engineering, construction, financial services, ICT and education sectors. Public and private sector procurement will be a focus of the mission with networking events in Jeddah, Riyadh and Doha.
Minister O'Sullivan said: "There are great opportunities for Irish exporters throughout the Gulf region. Our largest trading partner in that part of the world is the Kingdom of Saudi Arabia, but companies are also winning business in other countries like Qatar. Our engineering companies in particular have been very successful. Education and financial services are also of growing importance."
The Minister will also lead a trade mission to South Africa in November. That trade mission will focus on opportunities in the telecoms, Internet, media and entertainment sectors. Minister O'Sullivan said: "There is a growing interest among Irish companies in the South African market, which is increasingly seen as a hub for expansion into the rest of the sub-Saharan African markets. This interest is particularly strong among IT companies developing applications for mobile telecommunications and financial services."
Irish exports to Saudi Arabia were worth €499 million in 2010. In 2009, services exports were worth €162 million. Education and construction-related services are the growth areas with the greatest potential for Irish exporters and service providers.
Irish merchandise exports to Qatar were valued at €32.2 million in 2010. In 2009, Ireland exported €64 million worth of services. Irish firm Mercury Engineering assisted Qatar in its winning bid to host the 2022 World Cup.
Irish merchandise exports to South Africa were valued at over €284 million in 2010, an increase of 32% over 2009. Services exports in 2009 were valued at €547 million. South African GDP is forecast to grow by 3.7% in 2011, boosted by higher consumer spending.
Should Airlines Ban Babies from Business Class?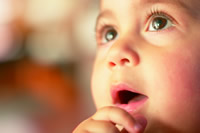 In July Malaysia Airlines received a wave of criticism following its decision, revealed by Australian Business Traveller, to ban babies from First Class cabins on its Boeing 747-400s and its forthcoming Airbus A380s – which are due to operate the airline's routes from Kuala Lumpur to London, Amsterdam and Sydney from June 2012.
Managing Director and CEO Tengku Azmil had used Twitter to say that the airline had received many complaints from passengers that they "spend money on First Class and can't sleep due to crying infants."
Malaysia Airlines subsequently issued the following media statement: "Bassinet facilities were originally available in the First, Business and Economy Class zones of the B747s. In 2003, Malaysia Airlines embarked on a revamp of First and Business Class cabin of the B747s. The First Class seat configuration was reduced from 18 to 12 for passengers to enjoy increased cabin space and extended legroom.
"Each new seat came with an electrically operated ottoman that doubles as a visitor seat and could convert to a lie-flat bed with the main seat. As a result of this seat revamp and the introduction of the ottoman, there was no facility for positioning bassinets in the First Class of the B747s. The Business and Economy cabins of the B747-400s, like the rest of our current fleet, are equipped with bassinet facilities to cater for infant travel."
The Malaysia Airlines decision raises a question that many, if not most airlines, are asking themselves: should babies be banned from First and/or Business Class cabins? What do you think? Click below to have your say.
(Additionally, if you think there are other categories of the travelling public who should be banned from First, Business, Premium Economy or Economy Class, drop us a line at This e-mail address is being protected from spambots. You need JavaScript enabled to view it )
Virgin Chauffeur Service Now at Dublin Airport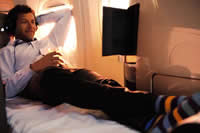 The Virgin Atlantic Upper Class complimentary chauffeur driven car service is now available to and from Dublin Airport*. If you are connecting to a Virgin Atlantic flight in London, you can now book return chauffeur driven car transfers to and from Dublin Airport up to a distance of 120 kilometres.
You will be picked up from your home or office by a chauffeur and driven to the airport, for your flight to London to connect with a Virgin Atlantic flight to any of the airline's 33 destinations.
In Virgin's Upper Class Suite the comfortable seat easily converts into the longest fully flat bed in Business Class. Sit back, relax, and order what you want, when you want from the selection of gourmet meals and snacks. If you want to stretch your legs, take a seat at the onboard bar and relax with a drink.
When you reach your final destination, you will be greeted in Arrivals by one of the chauffeur car drivers, and driven wherever you need to go*.
This service is bookable through your travel agent or by calling one of Virgin Atlantic's dedicated UK Premier Service agents on 0044 844 579 1111.
* Terms and conditions apply, restrictions apply to certain destinations.
On the Piste This Winter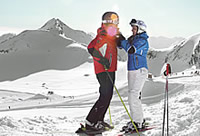 Are you looking forward to a ski holiday this winter? If Ireland's ski operators are right in their forecast, so are an estimated 45,000 other Irish skiers. Amazingly, an estimated 20% of Irish skiers jet off for a ski holiday without winter sports insurance. Don't be one of them – remember that a broken leg while skiing in Switzerland, for example, will cost you in excess of £8,000 (€9,100), while a snowboarding accident in the USA that resulted in a fractured tibula and fibula cost someone as much as £39,000 (or €44,500)!
For the winter 2011/2012 season tour operator Crystal Ski is offering a wide variety of destinations in seven European countries (Andorra, Austria, Bulgaria, France, Italy, Slovenia and Switzerland) as well as in Canada and the USA. If you book for Europe before the end of August there is an early booking discount of €30 per adult – and there are also some great-value Ski Plus deals on offer.
Topflight is offering 22 resorts in Soll, St Johann and Westendorf in Austria. If you want your ski holiday to be, well, a bit different, Topflight also has the third annual ITRA tag rugby ski trip to Westendorf on 4th – 11th February 2012.
(Don't forget that winter sports insurance!)
New C-Class Coupé from Mercedes-Benz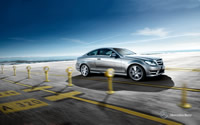 The shape of the new Mercedes-Benz C-Class Coupé combines the sporty, expressive lines of the C-Class family with the elongated silhouette and compact proportions of a coupé.
The flanks appear arrow-shaped, there's a deep-set air inlet line with integral daytime running lamps, and behind the double-slatted radiator grille there is black, three-dimensional diamond-shaped mesh. Other features include a short, sporty tail end housing the rear lights and LED indicators and alloy wheels.
The interior has clearly drawn lines, high-quality materials and intuitively arranged controls. The instrument panel is arranged on several levels, with a strong horizontal emphasis: the three-dimensional tube-shaped rings made of galvanised metal in the instrument panel give a striking effect. Both the sporty, three-spoke steering wheel and the shift/selector lever are finished in nappa leather, while trim elements are in a high-gloss black piano lacquer.
Two models of 4-cylinder diesel engine are available: the C 220 CDI BlueEfficiency and C 250 CDI BlueEfficiency, with their performance up to 20% higher than comparable engines of older models.
A special 'Edition 1' model includes optional paintwork in designo magno night black and the AMG Sports package interior styling.