eNews Issue 2

Emirates Announces Three-Cabin Daily Dublin – Dubai Service
British Airways Offers Seat Sale on Long-haul Flights
Hugh Cahill Flies Qantas to New Zealand and Previews Ireland's Chances in the Rugby World Cup
Free Wi-Fi Now Available in Belfast International Airport Business Lounge
Luxury Cruising – on European Rivers with Uniworld
Sony to Launch First Sony Tablets
Emirates Announces Three-Cabin Daily Dublin – Dubai Service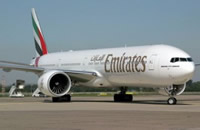 Emirates will commence a Dublin – Dubai service from 9th January 2012, using a 237-seat Airbus A330-200 with 183 seats in Economy, 42 in Business and 12 in First Class. The daily service will leave Dubai at 07.00 and arrive in Dublin at 11.30. The return flight will leave Dublin at 12.55 and arrive in Dubai at 00.25 the next day. The new service will create 20 jobs.
"Dublin will be our 29th route in Europe and Emirates' customers in Ireland who currently travel through some of our UK gateways will be able to fly non-stop to our industry-leading hub in Dubai and conveniently connect onwards to our broadening route network," said HH Sheikh Ahmed bin Saeed Al Maktoum, Chairman and Chief Executive, Emirates Airline and Group. "We see strong potential in Ireland through its industry, technology, tourism and the huge number of Irish nationals living overseas."
In an interview with Business Travel, Laurie Berryman, Emirates' Vice President – UK & Ireland, said: "We will be starting the service at a good time of year – when there is business traffic, winter sun breaks and an early Easter – and we expect to achieve an overall load factor of 80% for the January – March 2012 quarter.
"The 237-seat A330-200 is the smallest aircraft in our fleet (they are all wide-bodied) and we will progress the size up until we use, perhaps in two or three years time, our largest aircraft, a B777 with 354 seats. We tend to start new routes with a daily service and increase aircraft size rather than flight frequency.
"We expect 65-75% of ex-Dublin traffic to be for destinations beyond Dubai. For example Emirates flies to Perth in Australia, to New Zealand – we took many of the Rugby World Cup teams – and three times daily to Hong Kong. In the summer time some 50% of the traffic may be into Dublin, as a lot of people in the Middle East and Asia/Pacific are interested in visiting Ireland.
"First and Business Class passengers will have a complimentary limousine transfer from Dubai to anywhere in the United Arab Emirates, and Economy passengers will have bus transfers. We are also looking at a limousine service to and from Dublin Airport – and I am very keen to promote traffic from Belfast through Dublin.
"The cargo traffic from Ireland, North and South, will also be significant to the overall route performance."
"Emirates began looking at a Dublin service a long time ago – on and off for the past 15 years! – but we will be acquiring 40 new aircraft over the next 20 months and so Dublin has gone to the top of the list. We currently operate to 114 destinations in 67 countries and will commence a service to St Petersburg on 1st November, to Baghdad on 13th November, and to Rio de Janeiro and Buonos Aires on 3rd January – so Dublin will become Emirates' 119th destination."
British Airways Offers Seat Sale on Long-haul Flights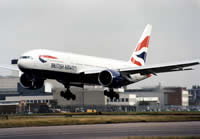 British Airways has announced a new sale that offers passengers from Ireland reductions of more than 30% on long-haul flights to destinations across the globe. The seat sale, which will continue until 20th September 2011 for travel until 30th June 2012, offers passengers the chance to take advantage of savings in all British Airways cabins: First, Club World, World Traveller Plus, and World Traveller.
Passengers can benefit from big savings in First, with return flights to Hong Kong for €4,679 and Sao Paulo for €4,754, for example. The Club World fare to Cape Town has been reduced by 26% to €2,255 and World Traveller Plus to Montreal reduced by 35% to €794. World Traveller passengers can also enjoy savings of 25% on flights to St Kitts starting at €596 and Barbados from €558.
Simon Daly, British Airways' Sales Manager Ireland, told Business Travel: "Never before has travelling in style and comfort been so affordable. This is a great opportunity for ex-Ireland passengers to fly to over 55 long-haul destinations at greatly reduced prices – but you will need to book now to ensure you don't miss out!"
All fares are return from Dublin and include taxes, charges and fees. Fares are subject to availability and terms and conditions apply.
Where Next for Aer Lingus?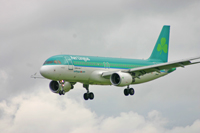 After an interesting period for Aer Lingus encompassing reasonable results and less than a week later its 25% shareholder announcing an intent to sell its holding, where next for the former flag carrier?
Load Factors
Load factors are probably less than they should be at 71% for the first half of 2011. Aer Lingus is expecting them to improve significantly – which is to be expected when three out of every 10 seats are empty. With a stated strategy of selling more seats rather than increasing fares, this should be achievable. However, the airline would not divulge load factors for Business Class across the Atlantic.
Premium Economy?
When asked if they were considering introducing a Premium Economy cabin on the key revenue-producing North Atlantic routes, they confirmed that they are investigating such an innovation but no decision has been made yet.
In pure commercial terms, can Aer Lingus afford to take such a step? Will there be sufficient upgrading from former Economy Class travellers to justify such an investment – balanced against the risk of too many former Business Class clients deciding that Premium Economy will suffice for what is in reality a mid-haul flight? If it is introduced, some clever and innovative pricing will be required to preserve the necessary revenue the Business Class cabin produces.
Business Class Competition
So how does Aer Lingus intend to compete with new product offerings from its rivals across the Atlantic in the front of the plane? Aer Lingus claims that it is best in class ex Ireland in terms of overall product, service, lounges, etc. It has no plans to replace the so-called 'lie flat' seat that does not go fully horizontal because full lie flat seats would simply not be economically justifiable in terms of taking up too much space on the aircraft.
Virtual Business Class
In terms of mix, Aer Lingus says that only 15% of its passengers are travelling for business, with the remainder travelling for leisure or visiting friends or relatives. So how does Aer Lingus cater for this valuable group of passengers?
Aer Lingus claims that its modular product offering results in a "virtual business cabin" and that such an offering gives business travellers all the benefits of Business Class, such as flexible tickets including luggage and lounge access, without the curtain and the glass of champagne at less than Business Class fares charged by the so-called 'legacy carriers'. The provision of pre-ordered meals later this year may assist in this regard.
Aer Lingus App
The Aer Lingus App has limited functionality for now, with check-in permitted to and from four UK points – London Heathrow, London Gatwick, Birmingham and Manchester – but with check-in to be rolled out to more short-haul destinations over the next year this will surely increase the popularity of this innovation with frequent and tech savvy travellers.
Heathrow Slots
No doubt the off balance sheet but highly valuable London Heathrow 'slots' will be a major factor in the disposal of the Government's 25% shareholding. The timing of such a sale could be better for the airline – especially as Chief Executive Christoph Mueller believes that the company is currently undervalued.
Flexible for the Future
When announcing the first half results, Christoph Mueller said: "Although economic conditions in Ireland remain challenging, we are pleased with the booking profile for the rest of the year and we are positive about our trading prospects for the remainder of 2011. We have flexibility in our fleet of aircraft to respond to market conditions, up or down.
"We expect revenue growth in the second half of this year to be broadly similar to that of the first six months. As a result, we are more positive about the profitability of the business in 2011 than we were at the start of the year.
"We continue to believe that Aer Lingus is a valuable business. We have a strong balance sheet with high levels of cash, a modern fleet and a high quality product. These combine with our relatively low cost base to create profitable short and long haul networks."
Hugh Cahill Flies Qantas to New Zealand and Previews Ireland's Chances in the Rugby World Cup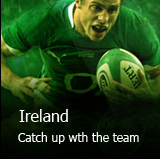 Hugh Cahill, RTÉ's rugby commentator/broadcaster, is following the Irish rugby team at the World Cup in New Zealand:
"Qantas has a bit of a reputation for being typically Australian: curt flight attendants, bland tucker and not many worries in between. I recently made the long flight to New Zealand from Dublin for the Rugby World Cup and I have to say the experience didn't at all match the preconceived notion I had developed over the previous few weeks.
"The London – Hong Kong leg lasted 12 hours but I was awake for just over two of those – rising at 5am every morning for the past 13 months to look after my first-born son meant I had a lot of sleep to catch up on! Needless to say, I took full advantage. Hong Kong – Melbourne was a shorter flight and I managed to stay awake for the entire nine-hour duration. The food in Premium Economy was about as good as you could expect to get at 40,000 feet and the cabin crew were friendly and attentive throughout. The inflight entertainment was top notch and three movies and a few documentaries meant the time passed quickly. If you haven't already seen 'Bridesmaids', check it out!
"My first few days on the other side of the world were spent in a bit of a day dream. I was warned that jet lag would take time to leave the system and, in truth, anyone travelling to the southern hemisphere would want to allow four days before starting to feel back to normal. As I write this (day 4) I am just about beginning to feel like myself again.
"We all know the Kiwis love their rugby and the atmosphere in and around Queenstown has been magnificent since our arrival. The Irish rugby squad seem completely relaxed in their surroundings and regularly mingle with fans and locals around the town – a far cry from the ridiculous set up in Bordeaux under Eddie O'Sullivan in 2007.
"Ireland plays four matches in Pool C against the USA, Australia, Russia and Italy – but it's the Wallabies that present by far the toughest challenge. Victory over Robbie Dean's men would secure a much easier route to an elusive semi-final spot, but defeat would ultimately mean a quarter-final show-down with defending champions South Africa. One to 15, if all players remain fit and injury free, Ireland has to have a serious chance of claiming a Wallaby scalp. But such is the ferocity and contact nature of this sport, keeping key players on their feet will be a massive task in itself.
"Much will depend on Declan Kidney's ability to manage the squad and build their confidence levels – but if the initial signs in Queenstown are anything to go by, Ireland looks ready and able to make their mark in this fantastic tournament."
Ireland at the Rugby World Cup
The Irish rugby team is now getting set to take on Australia at Eden Park in Auckland next Saturday, 17th September, in Pool C, having stepped out against the USA last Sunday. Australia has the youngest squad of all 20 countries, while Ireland has the oldest. Even with veteran Radike Samo making a test comeback at the age of 35, the average age of Australia's 30-man line-up is 25 years, 363 days, while Ireland has the oldest squad at 29 years, 34 days.
Ireland's matches:
Sunday 11th September: USA at Stadium Taranaki, New Plymouth
Saturday 17th September: Australia at Eden Park, Auckland
Sunday 25th September: Russia at Rotorua International Stadium
Sunday 20th October: Italy at Otago Stadium, Dunedin
Free Wi-Fi Now Available in Belfast International Airport Business Lounge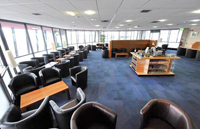 Derry-based coach company Airporter has struck a deal to provide free wi-fi to all passengers using Belfast International Airport's business lounge.
Niall McKeever, Director at Airporter said: "Airporter was the first coach operator in Northern Ireland to offer free wi-fi on all its services connecting the airport and the North West and it was a logical step to offer the service in the airport's business lounge."
Deborah Harris of Belfast International Airport added: "We have listened to our business lounge passengers and, along with Airporter's free wi-fi, provided by our airport Internet provider E-gatewayz, we have also extended the lounge opening hours and added local produce to the range of food and drinks on offer in the lounge. We have worked very closely with Airporter over many years and are delighted to welcome them on board as our business lounge wi-fi partner."
Luxury Cruising – on European Rivers with Uniworld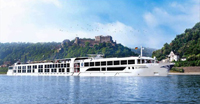 Uniworld Boutique River Cruise Collection, the only cruise line in the world to offer an authentic boutique cruise experience, has just launched its most extensive programme ever in Europe and Russia for 2012 – with 32 cruise itineraries.
The 12-strong fleet of 5-star boutique river cruise ships have an average capacity of 130 guests and offer world-class dining, signature lectures and shore excursions hosted by English-speaking local guides. Two new cruise itineraries for 2012 are an 8-day Gems of Germany, Belgium & the Netherlands and a 17-day Grand Treasures of Europe, from Brussels to Prague.
Uniworld, which is represented in Ireland by Dublin-based One Stop Touring Shop, is the world's only river cruise line recognised by the Zagat Survey for 'Top Cabins' and for 'Top Dining'.
Sharon Jordan, Uniworld Business Manager at One Stop Touring Shop, told Business Travel: "Over the years, Uniworld has worked with its sister company, Red Carnation Hotels, to elevate the standard in river cruising and is now offering unparalleled luxury in the river cruise arena with the finest of furnishings, inspiring original art, and modern luxuries.
"Each year, Uniworld looks for ways in which to enhance guests' experience and continues to invest heavily in the maintenance of fleet to ensure it is delivering a 5-star product to guests.
"The value-packed cruises include Zagat-rated staterooms; all meals onboard with complimentary fine wines, choice of beer and soft drinks served during lunch and dinner onboard Europe company-owned ships; inclusive excursions; signature lectures and entertainment onboard; and complimentary transfers on arrival and departure days."
Sony to Launch First Sony Tablets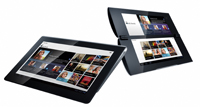 Sony is soon to launch its first two Sony Tablet models in Ireland, retailing at €489. Available from mid-September 2011, the Sony Tablet S is optimised for "rich media entertainment" on its 9.4" touchscreen display. A wi-fi/3G version will be available from November 2011. Also available from November, the Sony Tablet P is geared for "mobile communication entertainment", with a folding design and dual screens for maximum portability.
The Sony Tablet S has a NVIDIA Tegra 2 mobile processor, a high-resolution screen, and a new unique asymmetric design that allows it to be easily held for long periods of time. The wi-fi version weighs 598g. An optional special cradle converts Sony Tablet S for use as a digital photo frame or digital clock.
Weighing 372g, the Sony Tablet P also has a NIVIDIA Tegra 2 mobile processor and offers connectivity via wi-fi and 3G mobile networks. Dual 5.5" touchscreen displays, which can be folded to just 79x180x26mm to fit in a pocket, can be used for different functions – you can watch video on one screen while using the other to control it, or check email while using the other screen as a keyboard. The two displays can be combined into a large, single screen for web browsing and more. Flip Sony Tablet P on its side and read eBooks in comfort, just like an ordinary book.
The wi-fi only model is equipped with Android 3.1 (to be upgradable to Android 3.2) and wi-fi/3G models are equipped with Android 3.2.
Both Sony Tablet models feature front and rear facing cameras for still and video image capture. The USB 2.0 port and SD card slot simplify direct file transfers from other devices such as PCs, digital cameras or camcorders.
Preinstalled Sony applications include Social Feed Reader, which combines Facebook and Twitter into a single feed for easy and convenient viewing, Music Player and Video Player. Accessory options include a Bluetooth keyboard.