Air France Upgrades Business Class
Air France is introducing a new long-haul Business Class offer that includes a more comfortable seat with new storage space and 16:9 new screen, a more varied choice of dishes, and improved services at every stage of the trip. From end-2010 and over the next three years, close to 40 long-haul aircraft (A330, B777 and A380) will be fitted with the new seats, which will feature a new seat structure comprising a lie-flat bed measuring over 2m in length.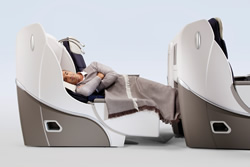 Built into a fixed shell preserving the passenger's privacy, the new seat offers improved sleeping comfort thanks to an integrated fixed footrest that offers the passenger a more stable sleeping position when adjusted into the bed position. The seat offers new relaxation positions, with legs extended, including during the taxiing, take-off and landing phases. The leather headrest, which can be adjusted vertically and horizontally with movable wings, is even softer than before.
A redesigned workspace includes a tray that has been raised up to offer more knee room, and which can easily accommodate a laptop or book, magazine or notepad. There is also a wider and more practical cocktail tray on the side.
The seat is equipped with a 110V socket, compatible with six or seven different plugs, including European and American models, to safely connect a laptop or any other electrical device; a directional reading light for reading and working without bothering or being bothered by fellow passengers; and a noise-reducing headset.
The removable armrest makes for easier access to the seat and facilitates access for reduced mobility passengers.
In just a few seconds, the seat can be adjusted into a near-horizontal bed, over 2m in length, making it one of the longest beds on the market, and 61cm wide. There are now just two buttons to find the suitable position.
In addition to the seatback and overhead compartment storage space (for shoes, amenities kit, water bottle, etc), new storage areas underneath the footrest and seat cushion are practical for stowing a satchel, laptop or handbag.
The seat also features a new 38cm (15") video screen, in 16:9 format, featuring the latest-generation in-flight entertainment system offering over 500 hours of programming.