Let's Meet in Switzerland!
Whether you need to plan a small meeting, an international congress or an incentive, make your task easy and pleasurable by choosing Switzerland – and by contacting the Switzerland Convention & Incentive Bureau (SCIB).
The Switzerland Convention & Incentive Bureau represents 24 partners including regions, destinations, congress centres, national event organisers, transport partners and destination management companies. SCIB provides free of charge independent assistance in planning your event in Switzerland (Email: scib.uk@switzerland.com, Web: www.myswitzerland.com/meetings).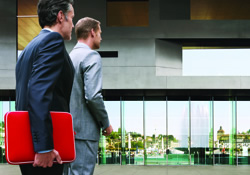 The Switzerland Convention & Incentive Bureau can help you plan your meeting in a major congress centre
In addition, the nine largest and most important congress centres in Switzerland – in Basel, Davos, Geneva, Interlaken, Lausanne, Lucerne, Lugano, Montreux and Zurich – have come together to form an association: Swiss Convention Centres (Email: info@swissconventioncentres.com). The members are all characterised by their great experience, solid expertise, and professionalism, and their locations vary from the heart of a city to high on a mountain.
Other conference centres range from architectural gems with dazzling technology to log cabins deep in the forest. Then there are the famous Swiss grand hotels, with their incomparable charm, and personally run small enterprises where hospitality and a warm welcome take pride of place.
Switzerland is easy to reach from anywhere, with worldwide flight connections to five airports and high-speed trains from across Europe. The internal public transport system is a byword for comfort and punctuality – it works like Swiss clockwork! – and just one ticket covers the whole Swiss Travel System network of trains, buses, boats and trams.
For an event to remember, plan a magnificent surprise for your participants: hire out an entire medieval small town, stage an historic-style Swiss street parade, or have your logo beamed on to the walls by a light artist.
Wherever you meet, spectacular mountain landscapes are nearby. Lakes and rivers are pure enough to drink from, while the alpine peaks give fresh perspective – and encourage fresh thinking.