Phased Opening for Dublin Airport's T2
Dublin Airport's new passenger terminal T2 will open on a phased basis during November, the Dublin Airport Authority has confirmed.
The formal opening ceremony will take place on Friday 19th November and the first official flight will arrive that day. Airlines that are using the new terminal will begin transferring their services to T2 from Tuesday 23rd November.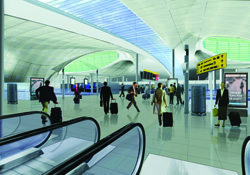 The phased ramp-up to full operations will continue during late November and into early December as Aer Lingus, Etihad Airways and the various American carriers transfer their entire Dublin operations into T2. During this ramp-up period, Aer Lingus will operate from both terminals, and will communicate directly with passengers regarding which terminal to use.
"After all the planning and hard work of the past four years, the DAA is delighted that we are now so close to the commencement of operations at Terminal 2 and we looking forward to welcoming the travelling public to the new terminal," said DAA Chief Executive Declan Collier. "The opening of Terminal 2 will transform the travel experience throughout Dublin Airport and will offer passengers the type of facilities, comfort and space they have been seeking for many years.
"It has always been our intention to open Terminal 2 on a phased basis and we have been working closely with our airline customers, ground handlers and the various State agencies in recent months to ensure a smooth transition."
T2 Carriers
Aer Lingus intends to commence its London services from 2 on 23rd November and plans to operate all its other short-haul services from T2 from 30th November.
Etihad Airways plans to begin operating its service to Abu Dhabi from Terminal 2 on 23rd November, while transatlantic services operated by Aer Lingus, Delta Air Lines, Continental Airlines and US Airways are planned to commence operations from T2 on 7th December.
Initially, US flights will operate with the existing immigration pre-inspection regime. The new full US Customs and Border Protection system will commence operations at Dublin Airport early in the New Year. The timing of the commencement of US-bound services from T2 remains subject to final agreement with the US State agencies.
Dublin Airport's other US carrier, American Airlines, will begin operating from T2 when it resumes its Irish services next spring.
Test Flights
The commissioning, testing and trialling of the various systems in Terminal 2 has been underway for 18 months and will continue until 19th November, when the new terminal will be officially opened by An Taoiseach, Brian Cowen TD. As part of this testing phase, a number of live test flights will operate through the new terminal from early November.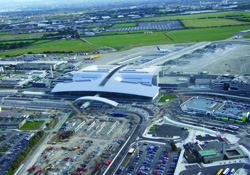 "During the past four months, more than three thousand volunteers have participated in several public trials of the new terminal," added Declan Collier. "These public trials were an essential part of the programme to prepare Terminal 2 for full operations and the DAA would like to again thank the thousands of members of the general public who gave up their time to help us put the new terminal through its paces in advance of its opening next month."
Aside from the public trials, the DAA has also completed about 20 other large passenger trials using its staff, as well as those from the airlines and ground handlers who will be operating from T2. "All the various systems in the new terminal, including the baggage system, safety, security, and building management, have also been meticulously tested and those tests are continuing," he said.
From November, the DAA and its airline partners will be communicating in more detail with passengers to inform them about which airlines will operate from T2, the planned transfer of services, and how best to use the new facility.