Trends in Business Travel
The airline industry is making a stronger and faster recovery than anyone predicted, with increases in business travel driving growth in premium and economy class cabins, but 'cautious optimism' is a prevailing forecast for 2011, as is a break-up of traditional cabin classes into multiple 'virtual' classes. Neil Steedman reports on global trends and on the corporate travel market out of Ireland.
On 21st September the International Air Transport Association (IATA) revised its 2010 industry outlook and is now projecting a profit of US$8.9 billion – up from the $2.5 billion forecast in June. However, in its first look into 2011, IATA estimates that profitability will drop to $5.3 billion.
"The industry recovery has been stronger and faster than anyone predicted. The $8.9 billion profit that we are projecting will start to recoup the nearly $50 billion lost over the previous decade," said Giovanni Bisignani, IATA's Director General and Chief Executive. "But a reality check is in order. There are lingering doubts about how long this cyclical upturn will last. Even if it is sustainable, the profit margins that we operate on are so razor thin that even increasing profits 3.5 times only generates a 1.6% margin. This is below the 2.5% margin of the previous cycle peak in 2007 and far below what it would take just to cover our cost of capital."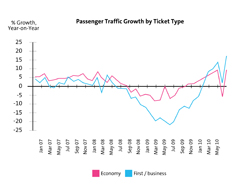 As world trade expands, growth in premium and economy classes is being driven by business travellers rather than holidaymakers. However, premium travel was still 10% below its pre-recession peak in May 2010, whereas economy travel was 5% below
The improved outlook for 2010 is being driven by a combination of factors. On the revenue side increasing demand and disciplined capacity management are leading to sharply stronger yields pushing revenues higher. At the same time, costs remain relatively stable.
While all regions except Africa showed improved prospects compared to the previous forecast, sharp differences remain. Compared to the June forecast, the prospects for Europe's carriers improved from a loss of $2.8 billion to a loss of $1.3 billion. The gains are largely attributed to traffic into Europe, boosted by the low currency that has stimulated exports and improved the air cargo business. Continuing economic weakness in the European economy and faltering consumer confidence continues to depress originating passenger traffic.
Looking Ahead to 2011
The industry outlook grows weaker in 2011. The impact of the post-recession bounce from re-stocked inventories will dissipate. Consumer spending is not expected to pick-up the slack as joblessness remains high and consumer confidence falls in Europe and North America. Travel and freight markets will remain stronger in regions such as Asia, the Middle East and South America but IATA does not expect these hot spots to be able to sustain global growth in 2011.
Slower growth is expected to keep costs in check and oil prices are expected to remain constant at $79/barrel. Industry growth is expected to fall back to 5%, in line with the historical trend. But a surge of aircraft deliveries (1,400) will fuel capacity expansion of 6% – in excess of expected demand improvements. Falling load factors will remove the possibility for further yield improvement leading to a more challenging revenue environment.
"This year (2010) is as good as it gets for this cycle. Governments are running out of cash for pump priming. Unemployment remains high and business confidence is weakening. We expect the 3.2% GDP growth of 2010 to drop to 2.6% in 2011. As a result, 2011 is looking more austere. We see profitability falling to $5.3 billion with a margin of 0.9%," concluded Bisignani.
'Virtual' Cabin Classes
Meanwhile, the report, 'The Travel Gold Rush 2020: Pioneering Growth and Profitability Trends in the Travel Sector', just published by Oxford Economics in partnership with Amadeus, concluded that: "The global travel industry is making an uneven recovery from the recession. 2010 has seen a return to growth with global arrivals increasing 5.6% in the first six months of the year. However, Europe remains sluggish and there are lingering economic concerns. Hotspots remain Latin America and Asia-Pacific.
"Traditional cabin classes will be replaced by 'virtual classes' as individual traveller preferences create a personalised experience. The future of the aircraft cabin is set to go through significant changes as customers are able to share their preferences with airlines and airlines will be expected to meet their individual needs leading to the decline of traditional cabin classes.
"Face-to-face (F2F) travel agents are set to become more highly valued. F2F agents may evolve to provide more services across the entire travel experience, particularly at its weak points. As travellers increasingly try out new experiences and destinations, it is likely that F2F agents may be able to play to their strengths of being there. They are likely to focus on industry niches/deep expert advice in the future. Their customer proposition will focus on ensuring that their clients are assisted across the entirety of the travel experience.
"Business travel will recover from the recent recession but business class may face changes. Video-conferencing is likely to supplement rather than supplant business travel due to industry growth and the continuing advantages of F2F contact, particularly for initial meetings. Analysis in the USA suggests that for every dollar invested in business travel companies realise $12.50 in incremental revenue. Business class is most likely to survive and thrive but classes in general are likely to become increasingly fragmented."
Ireland's Corporate Travel Market
Pauline Powderly, Travel Manager for Penneys / Primark and a past-Chair of the Institute of Travel & Meetings Irish Branch (which has 30 corporate travel manager members), says that the level of business travel out of Ireland is increasingly steadily, but slowly.
"While there have not been many changes to corporate travel policies, except for some cut-backs from business to economy class, the policies are being much more strictly enforced – be it cabin classes, hotel grades, car rental categories or expense budgets. New technologies such as the online Concur corporate travel and expense management tool are assisting in this.
"Another trend is that, with airlines having moved to Internet booking, corporate travel managers need to be much more conscious of the possible costs in the event of a flight or name change – high penalties can lead you to choose an alternative airline. Also, corporate clients are now looking for even better value and their doors are open for airlines to negotiate deals.
"Every company should have a dedicated professional travel manager, whether that be an in-house person, an implant, or an external corporate travel management company. Many companies do not – because they do not realise how much they can be losing. For example, every hour a footwear buyer spends booking her own travel on the Internet is one hour she is not doing her job but wasting time doing something she knows little about."
Travel Management Companies
Liam Lonergan, Managing Director of Club Travel, agrees that business travel out of Ireland is growing – and is also contributing to increasing passenger numbers in economy class cabins. "Premium economy class is becoming popular because it can achieve significant savings for corporates. When we are reviewing clients' travel policies we advise them of the airlines and routes on which premium economy is available.
"Clients are definitely reviewing their policies more often. Whereas before the recession this would have been done 'every so often', now it is every 18 months on average, and in some cases annually. Some have moved from business class to premium economy or economy, or perhaps increased the inflight time above which business class is used, say from six hours to eight hours.
"Another benefit arises from now being able to book one-way fares in different classes – so, for example, a client can fly out business class and arrive fresh for the meeting, then return in economy – and recover at home! However, you have to keep alert as to the restrictions that pertain to economy cabins, including penalties for any changes to the tickets.
"Clients are certainly looking to their travel management company for much more information. On a monthly basis, for example, they want to know average fares, the savings achieved, and the potential savings to be made in each quarter.
"There is definite trend towards greater use of travel management companies and to greater consolidation of travel on a global basis, which is assisted by our being part of the HRG (Hogg Robinson Group) worldwide network.
"E-ticketing is facilitating our ability to service business travellers of multinational clients no matter in which country they are based, but this does depend on the airlines involved being 'compatible'. Some airlines still operate on paper tickets, so the longer the itinerary and the more airlines involved, the chances increase of an all-e-ticket itinerary not being possible."
Lisa Whelan, Country Manager – Ireland of Carlson Wagonlit Travel, said: "We have experienced double-digit growth in traffic and transactions so far this year compared to 2009 and expect this trend to continue throughout 2010. Our growth is in excess of the Irish market BSP, which suggests that business travel is growing at a faster rate than leisure. Business travel is more reliant on the global economy growth and our clients are actively seeking out opportunities around the globe and see business travel as a necessity to increase their business.
"A defined and enforced travel policy is the most effective way for a company to save money on its travel programme. A majority of our clients have revised their travel policies as a result of the economy and we have helped them enforce those policies. Part of the money saving equation is a mandated policy via the TMC and the increased use and adoption rates of online booking tools. CWT Ireland has published tips on how to save money in our Smart Travel Guide on www.carlsonwagonlit.ie.
"Reporting is vital to benchmark against targets and the market. At CWT, we provide a high level of reporting through CWT Programme Management Centre, our award-winning tool that allows travel managers to instantly see key data at a glance, such as the amount spent on air tickets.
"In order to remain competitive, you must provide travel services to multinational companies. When using a global TMC such as CWT, clients have access to extensive resources and technology to help them do business in a global economy.
"We do not see a strong future for short-haul Business Class. However, there is still a need for First and Business Class travel – the trend among our clients that book First or Business Class is to reserve this for long-haul journeys."