Three New Executive Cars
AUDI A6
In 2010 Audi became the top-selling premium brand in Ireland and for 2011 the arrival of an all-new A6 is likely to further cement that position. Brim full of innovation and dressed in an even more advanced lightweight suit than before, the new car is even quieter and more refined too. The new A6 is up to 80kg lighter than the model it replaces thanks to the use of aluminium on 20 per cent of the structure.
The design is beautiful. Discreet, considered and elegant, it is a natural evolution of the model that preceded it and it now slots perfectly into the rest of the higher level of the Audi range.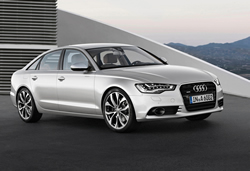 Audi are renowned for their interior quality. With this new A6 the brand has truly surpassed itself. The interior fit and finish is truly first class and the new A6 also brings increased levels of refinement. Modern materials and construction methods provide for very low interior noise levels. The precise matching of all components and systematic hydraulic damping in the axle and drive train bearings provide excellent vibration comfort.
Under the bonnet there will be a choice of three diesel and two petrol engines for the Irish line-up. The 2.0-litre is a 177hp unit and the most fuel-efficient engine. Combined with a six-speed manual transmission, it manages 4.9 l/100km and, with emissions of 129g/km, it sits in Motor Tax Band B.
Also available is a 3.0-litre TDi with either 204 or 245hp. At just €50,700, the 204hp 3-litre TDi V6 Multitronic looks like very good value, especially as road tax for this car is just €156. Petrol fans can choose from either a 2.8-litre 204hp or 3.0-litre 300hp.
All Audi A6's are very generously equipped. From the entry-point you get Misano leather upholstery and Audi Drive Select, which alloys you to change the throttle map, steering feel and gearbox response to suit your driving mood. There are 17-inch alloy wheels, Bluetooth phone control and dual-zone climate control on all entry-level models.
There are some truly incredible options to choose for this new car. You can have in-car Wi-Fi that allows you to surf the Internet on devices such as laptops and iPads. Google Maps can provide satellite navigation – and this is quite simply the best satellite navigation you will find in a car anywhere.
Other new systems relate to safety, with Adaptive Cruise Control and StopGo now available, as well as Active Lane Assist, which helps guide a car back between lanes if it strays, night vision, head up display and Audi pre sense, which in its most basic form is standard in the A6, but its most advanced will slow down and brake the car in the event of an imminent collision. There is a choice of front-wheel drive or the renowned quattro all-wheel drive and whichever drive train you choose the car feels incredibly sure-footed and it very much has a dual personality. Given the poor weather conditions we have been experiencing during our winters of late, the merits of choosing quattro all-wheel drive are very clear too.
The new A6 is supremely comfortable, as an executive saloon should be, but it can also feel as agile as a sports car. Prices start at just €42,500 for the 2.0-litre TDi. This is a remarkably talented and technologically brilliant car.
Lexus CT200h
The new CT200h is a new departure for Lexus, in that it is their first compact hatchback and, while it is considerably tamer in design compared to the LF-Ch concept car that we saw at the Frankfurt Motor Show back in 2009, it is still a handsome car and looks to take on the likes of the BMW 1 Series and Audi A3 Sportback head-on.
But unlike its German rivals that are hugely successful with a mainly diesel power train line-up, the Lexus, uniquely in the segment, uses the tried-and-trusted hybrid power train, as previously seen and used to such good effect in the latest generation of the Toyota Prius.
The CT200h uses the same 1.8-litre petrol engine/electric motor combination and they combine to produce 134hp, no longer a potent figure these days, and while Lexus would probably admit that this is no sports car, where the car does score massively is on refinement. The car is really well built and whisper quiet.
The ride can be a little unsettled at times and it isn't a particularly exciting car to drive either, but what we can't argue with is the outstanding fuel economy and emissions (94g/km) and the price is good too – starting at €28,450.
Mercedes-Benz CLS
The new Mercedes-Benz is quite a departure from the first generation of the car that burst on to the market in 2005. The CLS set the trend for four-door coupés and was well received in Ireland during the boom years.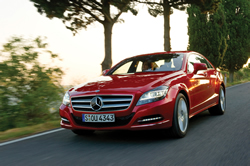 The new second-generation has just arrived and it is not just a facelift – the car is bigger in almost every dimension and offers more headroom in the rear, although the visual highlight is almost certainly the front styling, which is inspired from the SLS supercar.
The engine line-up for Ireland is simple. There is a choice of two diesel engines, one a four-cylinder in the 204hp CLS 250 CDi, and the second is a six-cylinder, a 265hp 350 CDi. The four-cylinder version will be the volume seller in Ireland, as its low emissions (134g/km) place it in Motor Tax Band B and this helps to reduce the price by 23 per cent compared to the previous model. That means that the range now starts at just ?65,750 and that is good value for what is a lot of car. We would probably go the extra metre if we were buying this car and have the larger six-cylinder engine in the 350 CDi, which we tried and is remarkably good.
BMW's Vision Efficient Dynamics Concept Car was on show at the Aviva Stadium in Dublin earlier this year.
The Vision accelerates from 0-100km/h in underfive seconds, yet at the same time its radical new plug-in diesel hybrid drive train uses just 3.8 litres of fuel and keeps CO2 emissions to 99g/km, making it one of the cleanest cars on the road.