Travel Apps for Your iPhone
Gerry Byrne offers his choice of iPhone apps for business travellers
Orbitz
This is one of the best broad spectrum airline iPhone apps there is and gives access to a very wide range of airlines and seats. Not only does it provide information on fares and availability for all flights in your travel time range, it also enables you to book the flight and pay using your credit card. Although designed primarily for the US market, it still enables you to get bookable flight information for Dublin-London flights. It can also be used for hotel and car bookings worldwide. Orbitz also gives flight status information – but weather, parking and local airport road traffic information is, for the moment, only available for US airports. All prices are given in US Dollars. Like many of the apps featured here, a version of Orbitz is also available for the Blackberry and other platforms. It comes free.
Kayak
Also free (because it also earns commissions) is Kayak which, like Orbitz, is the app version of an already popular travel booking web engine.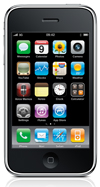 Apple iPhone
Mobiata Flight Tracker
We especially like the zoomable map that enables you to track the progress of your flight after it takes off and to identify geographic features and cities as you fly over them. Mobiata also tracks the status of your flight and can be used to identify an alternative if it gets cancelled or badly delayed. It will even tell you what gate your flight leaves from. ($4.99)
Virgin Atlantic Flight Tracker
There are numerous individual airline apps too, such as Virgin Atlantic Flight Tracker (free).
Heathrow Airport Guide Pro
Airports too are increasingly featuring themselves in apps and Heathrow Airport Guide Pro (free) is a good example. It includes a useful map of Terminal 5, if you are still a stranger.
Hilton
Hotel chains are doing a similar promotional job for themselves and Hilton (free) gives access to more than 520 hotels in 76 countries.
National Rail Enquiries
This is suited especially for the iPhone 4 and is ideal for businesspeople who prefer to travel by the UK's excellent and extensive rail system – but cannot get their heads around the timetables and which company serves where. It gives you departure and arrival times, and allows you to plan your journey right down to knowing from which platform to board your train. (£4.99) (When are they going to do something similar for London busses?)
RAC Traffic
If you prefer to drive, RAC Traffic (free) provides warnings of traffic accidents and other delays throughout the UK.
LogMeIn Ignition
Have you just remembered something you needed to look up on your desktop computer at home or in the office before you left home? Get LogMeIn Ignition (£17.99) and have someone install it on the base machine as well. Then you can access all the files and programmes on your office computer and even perform functions such as rebooting your home machine. There is also a fairly formidable encrypted interface to protect your data. LogMeIn enables contact to be made to several computers and comes in iPhone, Android and Windows for Mobiles formats. Business Week said this is one of the most indispensable apps of the year.
RDM+ Remote Desktop
A cheaper alternative is RDM+ Remote Desktop (€8.49), which can access Windows and Apple machines.
Get Packed
This is a useful pre-departure packing list from Luux Software that you can customise by answering a list of detailed questions, including where you are coming from and going to. It tells you if you really do need that pith helmet. (€1.59)
ROK Lingo
As the name suggests, this is a translation tool into which you key in or paste the phrase or word you want translated and it will not only translate it into English, French, Spanish, German, Turkish or Catalan but also makes a good attempt at pronouncing it too. (€2.00)
Lingopal 44
This is also highly rated for 'speaking' phrases in difficult languages, although it is more of a phrasebook than a translator and you need a different version for each language. (€7.99) There is even a section on flirting – which probably explains why you need to be 18 to download it!
iDict
Another highly rated translator is iDict (free), which offers 40 languages and is probably a better idea if you want Filipino dialects as well as the more popular continental languages.
Visit Paris
There are a growing number of good city- or country-based apps – such as the Australian Travel Guide, €1.79 – so it is worth searching for one before you travel. Visit Paris (€1.99) enables you to do a virtual off-line tour before you leave so you can plan your itinerary.
mPassport Paris
This is a city guide with a difference because you will only find it useful if you have a medical condition and want treatment (or if you are a paranoid hypochondriac). Medical terms are translated into French so you can describe your symptoms and even the drugs you are taking in the local patois. Doctors and hospitals are grouped by speciality and there is even an appointment booking engine.
Campsites EU
If you are travelling on a (very) limited budget, try Campsites EU. (€2.99)
Wi-Fi Finder
Wi-Fi Finder (free) is billed as the largest directory of paid and free wi-fi Internet access worldwide.
jExchange
Do not go without jExchange (€0.79), giving you up-to-date real-time exchange rates for most international currencies.
Geode Communicator
Finally, for the ultimate in en-route posing, try using Geode Communicator ($1.99) to send a voice attachment to an e-mail saying, breathlessly, why you are running late. Geode will automatically tell the recipient where you are. You can also choose from a number of pre-set announcements to send bursts of rapid-fire messages to those waiting anxiously for your arrival.
Visit Dublin – a World First
Dublin is the world's first city to provide a pointing technology-enabled app that allows users to point their mobile device at a building or object in the real world and retrieve information about it. Dublin Tourism's Chief Executive, Frank Magee, said: "Our Visit Dublin app delivers Dublin in the palm of your hand and will become the default way of visiting Dublin and inevitably be replicated by other leading tourist destinations around the world."

Visit Dublin
The app covers the greater Dublin area and operates within a 10km radius from where the user is located. It features extensive detailed content for tourists, sourced from the VisitDublin.com website's 7,000 pages of information, that is geocoded and will initially cover approximately 1,400 points of interest. There are also audio-video presentations, daily bulletins, and special offer vouchers for shops and restaurants.
All the information has been validated by Dublin Tourism and is constantly updated. Dublin Tourism is targeting 100,000 app downloads in the first 12 months. Visit Dublin costs €2.99 and is available from the Apple App Store and Android Market, both accessible by visiting www.visitdublin.com/App.