Dublin Airport T2 How - Is It Working?
Almost one-third of passengers now arrive and leave Dublin Airport by bus and coach, so I decided to give it a try, catching the comfortable Bus Eireann coach from Drogheda at Balbriggan. It dropped me off at the lift entrance to Terminal 2 (although I couldn't reboard there – only Aircoach and AirLink to Dublin City can pick up immediately outside).
My first reality check came on entering the lift, which only indicates 'Arrivals'. How many outbound people get back out looking for one going to Departures? In fact, it also goes to Departures. How much simpler to have a button that says 'Arrivals/Departures'?
Signage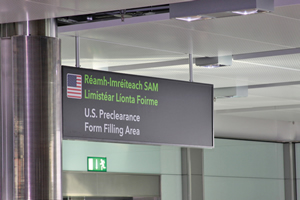 Like almost everywhere else in this country, signage is a problem. Where it exists it is well designed, but minimal. For example, anxious to get to T1 from T2 to meet someone, I had quite a search to re-discover the landside, covered walkway that connects the two buildings. Even though I had used it twice before I couldn't recall which floor gives access to it. The sign pointing to it is some way to the side of the main 'spine' of the building that one follows after check-in on one's way to the departure gates.
The good news is that Dublin Airport finally has a decent coach and bus station! Dublin Airport came late to the bus and coach station business, but its €3.5 million effort makes up for lost time. Overall, it's a tremendous improvement and real asset to the traveller. According to Dublin Airport Authority, there are 350 bus and coach arrivals and departures daily (700 in total). That figure doesn't include busses shuttling between the terminal and car parks, hotel courtesy buses, or coach tour buses that access the airport on a regular basis.
Almost one passenger in three now uses a bus or coach to access the airport, a figure that has steadily risen over the past 10 years. Having mastered the system, I will now think twice before taking a car to the airport again. However, once again, the DAA could do a little more work on signage. Leaving T2 there is nothing to tell passengers where to go to make their particular coach or bus connection. Some coaches stop outside the twin lifts, others are further along a covered walkway. It took me about 10 minutes to work out where the Drogheda bus was based and, by the time I did, I had missed my connection and waited 30 minutes for another one.
I deliberately didn't ask for help, even though a Bus Eireann inspector was about. I like to pretend I'm a visitor who doesn't know these things, perhaps even one who doesn't speak English, and it's nice to know if a stranger can intuitively find their way around. So far, they can't.
It is unfortunate that French, German or Spanish speakers are not helped by T2 signage. Signs are in Irish then English and, while it's quaint to learn the Irish for 'multi-faith room', that's little use to a Spanish-speaking Muslim wanting to unroll his mat and bow towards Mecca before take-off. If one were to do a cost benefit analysis on the language of signs, I would have little hesitation in saying that, assuming signs are to be in English and just one other language, that other language should be Spanish, given the vast numbers likely to find it useful.
Another gripe I encountered was the opening hours of some retailers in T2. For example, Dixons offer "cheaper than Amazon.com prices" for computers, cameras etc and the deals are, I am reliably informed, very good. Pity then that they're not always open before 06.00 for the first wave of early morning travellers.
Level Changes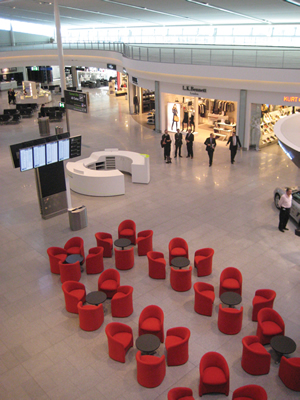 Arriving passengers find T2 less confusing than departing ones. After stepping off the aircraft, you continue in a straight line (unless you're transferring to a different flight) at the same level through Immigration, baggage claim and leaving the terminal, when you use either lifts or escalators to finally return to ground level.
Entering the terminal is different and departing passengers can experience two major changes of level - three if you need to check in and drop off baggage.
After entering via the bridge over the main roadway, you descend to ground level again for check-in, then climb via an escalator (or take a lift) to the concourse that leads to security checks and retail area. Then you descend on the longest escalator in Ireland to get to the gate level. One passenger moaned to me about signage: he would like to see some indication of which flights leave from which gates before he goes through security. Once through security you find yourself in an attractive shopping area reminiscent of London Gatwick. By and large the shops are laid out in a roughly oval pattern so you can quickly see what is where. The more linear Terminal 1 alternative, known as 'The Street', requires quite a hike back and forth before you find Tie Rack, or whatever it is you seek.
Aer Lingus
Apart from minor hiccups, T2 managed to open without any of the drama that befell London Heathrow's T5 and that was thanks to many long months of preparation. Aer Lingus, for example, was criticised for the length of time it took to transfer all of its operations into T2, a process retrospectively justified by the relative smoothness of the transfer.
One of the big attractions of T2 for Aer Lingus is the presence of US Customs and Border Protection (CBP) at T2, where all US-bound passengers (on all airlines) are processed in advance by immigration and customs to the extent that they are treated as domestic passengers on landing in the USA. As a result, Aer Lingus is now attracting extra transfer passengers, mainly from UK provincial cities, on to its transatlantic services.
But all is not rosy in the garden. Flights on the Aer Lingus summer schedule that depart after 5.00 pm will not be entitled to CBP services owing to roster incompatibilities. This particularly affects Flight 109 daily to New York and Flight 139 to Boston three times weekly. The airline says talks on the issue are "ongoing". Aer Lingus says it is happy with the CBP operation, although elsewhere passengers have complained about the length of time spent queuing, upwards of one hour according to some accounts. Also, there is no special treatment for First and Business class travellers – they queue with everyone else. So leave plenty of time – it's still worth being processed in Dublin early in the day rather than enduring queues late at night or early in the morning on the other side when you are tired after many hours in the air.
Another other bit of excitement at T2 is that Aer Lingus has finally opened its Gold Circle Lounge, a posh affair complete with a mezzanine and a good view over the airfield and beyond. (Ethihad Airways' First and Business Class Lounge is also open.)
Finally, despite being almost half a kilometre long, T2's departure pier will not always be able to accommodate all the traffic passing through. At peak times, and to make room for more wide-bodied aircraft on the new pier, some Aer Lingus traffic will be bumped over to the former Pier B. This will account for about six shorthaul flights daily, usually in the first morning wave of flights – but passengers will still check in via T2. Access to the departure gate will be via an airside link through 'The Street', but this will eventually be augmented by a special walkway now under construction.