Pichet Café, Bar and Restaurant, Dublin
Budgets may be curtailed, but clients must still be entertained. 'Business Travel' tried the Pichet Café, Bar and Restaurant, 14-15 Trinity Street, Dublin 2. 01 677 1060. www.pichet-restaurant.com.
Pichet is a good place to bring a business contact after a long day to wind down, but I would not recommend it as a place to continue a meeting over dinner.
The restaurant is divided into three main areas: a front area that is airy and spacious and is used as the café during the day, a main room, and a conservatory. There is no private room and the tables are quite close together. Décor is bistro style and the atmosphere is informal.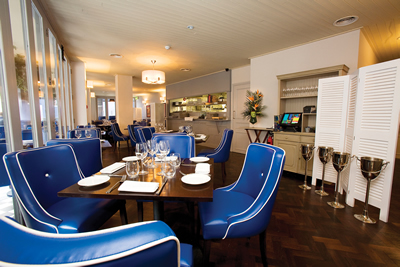 We had dinner on a Thursday night and there was a great buzz. For starter my partner had the Crispy Hens Egg, Serrano ham and black pudding with baby leeks and caper vinaigrette (€9.50); it was a great take on a bacon, eggs and black pudding breakfast but capers added a very nice twist. I had the Country Terrine with crispy pigs ears (€7.95) – the terrine had the perfect coarse texture that I like, but the crispy pigs ears were a little greasy for me!
The waiting staff were attentive, but there was a mix-up on the main course. I ordered John Dory with Shellfish Orzo with basil and samphire (€24.95) but received the other fish main course, halibut – a 50:50 call. I explained the mix-up and our server took it back – but my partner was left with his main course. This is a pet hate of mine: we were out to enjoy a meal together, not to watch each other eat. He went ahead and ate his Roast Pork Belly with puy lentils and monteau sausage (€22.50) before it went cold. He would have had the 9oz Ribeye Beef only it was somewhat overpriced at €28.00.
When the John Dory arrived the Shellfish Orzo was good – it had been made with attention and care, but it was somewhat spoilt by heavy-handed use of salt in the seasoning process. One of the main reasons I ordered this dish was for the samphire; this is a reasonably priced sea grass that can be bought retail for €5.00 for a 250 gramme bag. As such I would have expected a decent handful on the plate and not just the ten strands provided.
Meringue?
The first two courses were perfectly proportioned and we had skipped extra side orders, so still had space for desserts. My companion had the Chocolate Brownie with chocolate sauce, which was just a little bit over the top for him in terms of chocolate. I went for the Rhubarb Eton Mess €6.00) as I liked the twist of rhubarb instead of the usual strawberries and raspberries in this now very trendy dessert, to be found on so many bistro menus. All I will say is: where was the meringue? We did not opt for coffee as we both had glasses of dessert wine to finish. We then received a lovely plate of petit fours to make up for the mix-up on the main course.
The bill came to €135.15 plus gratuity for 2 pre-dinner drinks, 2 starters, 2 main courses, 1 dessert, 2 glasses of dessert wine, and a beautiful bottle of Bergerac at €37.00. We had opted for Dublin's finest tap water instead of mineral water. I was impressed by the fact that we were not charged for the Eton Mess, as we had not said anything about it at the time – just hadn't eaten it.
The wine list offered good choice and had something for everyone, with prices starting under €30.00, the majority under €50.00, and some heavy hitters available if you have that kind of budget.
A word of warning: at the time of going to press, what appears on Pichet's website in terms of menus etc differs in terms of offering and pricing. Perhaps their website needs updating?
All in all, Pichet offers good value and good service if you are looking for an informal and original dining experience in Dublin city centre.