Destination Dubai
It has been said that Dubai reinvents itself every six months and even though the realisation has spread that the emirate has suffered from the global downturn in recent times, the economy is still booming, as Michael Flood discovered on a recent visit.
Dubai is still an exciting destination and there is a palpable optimism visible to those who do business in Dubai, the second largest of the United Arab Emirates with a population of more than half a million people, of whom 80% are expatriates. The optimism is real in that airport passenger numbers are up, duty free sales are up, and a new driverless, fully automated metro network has reduced traffic jams.
Dubai has always been involved in trade and commerce, because of its geographical position between east and west. The economy is booming, GDP has increased by 13% annually since 2000, and there is no corporation tax, except for oil producing companies and branches of foreign banks.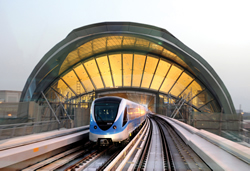 The tallest building in the world, the magnificent Burj Khalifa, stands 2,717 feet (828m) high and is symbolic of the "can do" attitude of the ruler, Sheik Mohammed bin Rashid al-Maktoum, who is no stranger in Ireland as he maintains three stud farms here where 250 yearlings are born every year. A group of Irish expats have set up the Irish Business Network Group to act as a platform for members to network with each other and to provide an exchange of trends and ideas from different industry categories in the emirate. There is also an active linked site and the current chair is Brian King, who would welcome new members to the group.
No visit to Dubai would be complete without spending an evening at the new horseracing track, which has the feeling of an Irish race meeting but without the bookies or the tote.
The best time to visit is between October and April and with temperatures 24°C, evenings can get a bit chilly, but rain is a rarity. From May to September it gets really hot, up to 40-50°C.
If golf is for you, try the superb Emirates Golf Club, a challenging 7,100 yards (6,492m) long, par 72. The Bedouin-style luxurious clubhouse has several restaurants, squash and tennis courts and a fine outdoor pool.
Finally, there is no personal income tax payable – so it is not surprising that many of our young professionals are heading to this emirate in the sand.
What You Need to Know
Under no circumstances should alcohol be consumed if you are driving.
Only non-Muslims are allowed to consume alcohol and this must be in licensed restaurants, clubs, and pubs.
Obscene or offensive language, spitting, or any aggressive hand gestures are to be avoided.
Do not speak to women in public places or take photographs without permission.
Certain drugs and medicines are considered to be controlled substances in the United Arab Emirates. This includes some over-the-counter medicines. It is vital that you carry with you a doctor's prescription for any medication you have in your possession.
Likewise, there is a strict zero tolerance anti-drugs policy and possession of even a small quantity may result in arrest and imprisonment.
Dubai Duty Free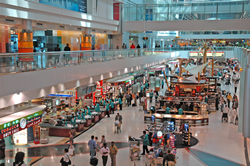 Dubai Duty Free is now the single largest airport retailer in the world. Despite the global economic downturn, sales were up 3.8% to more than ?785 million in 2010. The biggest selling item was perfume, liquor took second place and gold third. With 21.5 million transactions recorded at Dubai Duty Free last year (an 11% increase), the statistics continue to make interesting reading.
Ballinasloe man Colm McLaughlin, the Managiing Director, is the driving force at Dubai Duty Free. He joined the company 27 years ago (on a six-month contract!) and is recognised worldwide as the architect of the growth and success of the modern-day duty free.
He said: "We are thrilled to have had such a positive year iin 2010. Our sales have been consistently buoyant throughout the year and we are pleased to see that our penetration level continues to be high – we sell to 45% of all passengers, while the average spend per departing passenger is around €32.
Where to Stay
Shangri-La Hotel Dubai
Sheik Zayed Road, P.O. Box 75880,
Dubai, UAE
T: +971 4 343 8888
E: sddb@shangri-la.com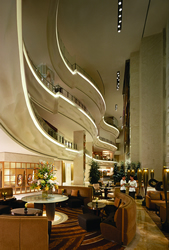 The one constant in any Shangri-La Hotel, striving for perfection by the staff in everything they do, is very evident in the Dubai property, which is well located on Sheikh Zayed Road, five minutes from the World Trade Centre, Dubai Mall, and the Dubai Convention Centre. The hotel comprises 302 rooms and suites, including two floors of Horizon Club rooms. It is worth considering upgrading to one of these as the extras include breakfast in the dedicated Horizon Club lounge, afternoon tea and a free bar in the evening, and free Internet access. The hotel also has 126 serviced apartments for long-stay guests.
The rooms are stylish and spacious with an interior décor that is relaxing. The bathroom has both a shower cabinet and a bath with Aligner amenities.
Bang & Olufsen entertainment centres in each room show that the guest is the most important person in the hotel, apart from the fact that you will want to upgrade your entertainment system when you get back home.
The spa is a restful haven that majors in pampering the guest and is a virtual oasis of tranquiity, when you return after a day of business. There is also an outdoor pool, a fully equipped health club with Jacuzzis, plunge pools, sauna and steam rooms.
There are eight food and beverage outlets, including the wonderful French-Vietnamese restaurant, Hoi An.
Hyatt Regency Dubai
Deira, P.O. Box 5588, Dubai, UAE
T: +971 4 209 1234
F: +971 4 209 1235
E: dubai.regency@hyatt.com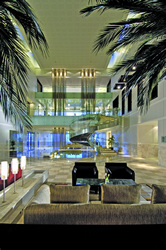 One of the earlier luxury hotels, this property has had the benefit of a major refurbishment and now ranks with the newer hotels in the emirate. Located along the Deira Corniche, the waterfront promenade, it is within walking distance of the gold, spices and textile souks, and 8km from the Dubai International Convention Centre.
This 5-star hotel has 414 rooms and suites with superb views of the Arabian Gulf at the mouth of Dubai Creek. Rooms are spacious and finished in warm natural tones and light pine furniture, and have all the amenities you expect in a Hyatt property.
The Club Olympus Fitness & Spa is a modern health club with a swimming pool, squash court, floodlit tennis courts, jogging track, gym and sauna.
There is also a nine-hole pitch and putt grass golf course with an 18-hole crazy golf within, and, believe it or not, a full ice rink.
With five award-winning restaurants, guests have the choice of a broad assortment of international menus and dining options. Al Dawaar is Dubai's only revolving restaurant and serves an international buffet with stunning views over the Arabian Gulf. The hotel also features Miyako (Japanese), Focaccia (Italian), Shahrzad (Iranian), and The Kitchen, an international à la carte restaurant.
This property also has its own shopping mall.
Fairmont Dubai
P.O. Box 97555, Sheik Zayed Road, Dubai, UAE
T: +971 4 332 5555
E: dubai@fairmont.com
A stylish 5-star hotel modelled on an Arabic wind tower, this 34-storey property has 394 rooms (including 128 suites and penthouses) and is linked to the Dubai International Convention Centre by a covered walkway. It is well located in the centre of the business district on Sheik Zayed Road and next to the World Trade Centre metro station.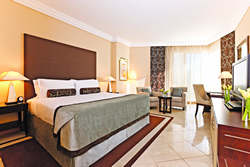 Rooms are elegant with granite floors and are well appointed with the hard working road warrior in mind – but high-speed Internet access is available at an extra cost. There are some spectacular views of Dubai from all rooms.
There are more than 10 dining options and the most interesting has to be Spectrum On One, which features eight interactive kitchens where guests can observe the team of chefs produce an international dining experience from a list of six different cuisines.
There is also Cin Cin, one of the best wine bars in the emirate, with a striking black and white colour scheme. More than 250 wines from around the world include 30 wines available by the glass. Cigar smokers are well catered for with a dedicated bar serving a range of after dinner digestifs.
The Willow Stream Spa offers all spa treatments, features an opulent Jacuzzi and Turkish-style Hamman steam rooms, and covers a 4,000 square metres. There are also two outdoor pools.
JW Marriott
Hotel Dubai
Abu Baker Al Siddique Road, Deira, P.O. Box 16590,
Dubai, UAE
T: +971 4 262 4444
W: www.marriott.com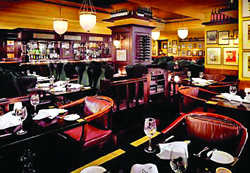 This 5-star Marriott Group hotel is located in the heart of old Dubai in Deira, near the gold and spice souks and a short distance from Dubai Creek. Often referred to as the Sophia Loren of hotels, having retained good looks with age, this most comfortable property lives up to what one expects from a high-end Marriott.
There are 229 rooms and 52 suites on six floors, all spacious and well fitted out with the business traveller in mind – with executive rooms being even more spacious. There is also a dedicated business centre.
There are 10 restaurants and steak lovers should try the award-winning JW's Steakhouse, which offers Angus steaks and fresh seafood. The décor is high wing-backed leather chairs and superb service – a fine dining experience is guaranteed.
The Griffins Health Club includes a gym, sauna and pool on the rooftop.