The Convention Centre Dublin
The new €380 million Convention Centre Dublin, located on Spencer Dock on the River Liffey waterfront, was officially opened by An Taoiseach, Brian Cowen TD, on 7th September 2010, writes Sarah Freeman. It is Ireland's first purpose-built international convention and event venue and is positioned to become the leading premium mid-sized convention centre in Europe. It is also recognised as the world's first carbon neutral convention centre.
When delegates attend international conferences they often end up in darkened spaces deep inside some concrete jungle. Delegates visiting Dublin's new purpose-built international conference and event centre will have a completely different experience.
Designed by Pritzker Prize-winning, Irish-born and internationally renowned architect Kevin Roche, the Convention Centre Dublin has a unique riverfront façade – made of 475 different-sized curved glass panels – that runs the full height of the building and casts light on to every floor. This already iconic feature affords delegates views of the River Liffey and the surrounding cityscape, Dublin Bay and, in the distance, the Dublin Mountains.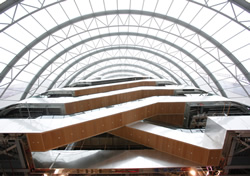 Convention Centre Dublin
Developed by Treasury Holdings, as part of a Public Private Partnership with the Office of Public Works, the CCD is the first State-owned, public-access building to be constructed since the foundation of the Irish State – and is Kevin Roche's first building in Ireland. Treasury will operate and maintain the CCD for 25 years, when it will revert to State ownership.
The CCD is located in the city centre beside its own Luas tramline stop, is minutes from Dublin Port Ferry Terminal, within walking distance of hotels, restaurants and tourist attractions – and only 20 minutes from Dublin Airport. The centre will employ 250 people on a full-time basis and up to 500 part-time.
The centre has been open for business since 5th August and already has 150 confirmed events of various sizes up to 2014 – including two very large international conferences held in September 2010. Business is coming from all over the world.
Conference Facilities
The CCD can accommodate conferences from eight to 8,000 participants. It offers 22 multi-functional, flexible rooms with wi-fi throughout and suitable for meetings and conferences from small corporate meetings to international congresses.
They include six flat-floored halls, four boardrooms, 11 meeting rooms and a tiered 2,000-seat auditorium with full theatrical stage and fly-tower, sound and lighting systems that make it perfect for concerts and theatre productions. The auditorium also comes replete with seven interpretation booths, its own AV control room, and seating designed for maximum comfort.
There are 4,500 square metres of exhibition space, theatre-style capacity for 3,000 delegates in The Forum, and banqueting facilities for up to 2,000 guests, all equipped with the latest technology. The hospitality team can plan any variety of catering from intimate dinners and fork buffets to stand-alone banquets for 2,000 or conference hospitality for 8,000 guests.
To help bring in all clients' production equipment the CCD has dedicated vehicle access for commercial vehicles, plus truck and van lifts – so if they want to take a 40ft truck container to the upper floors, it is no problem!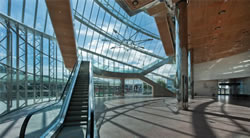 Convention Centre Dublin
Carbon Neutral
The CCD stresses its environmentally friendly credentials. It is the world's first carbon neutral convention centre – largely due to the cement used, with credits also being bought to offset the carbon that was unavoidably emitted during construction.
The centre is also committed to long-term environmental sustainability in accordance with ISO 14001 and will be seeking accreditation within 18 months of opening. This includes recycling, a focus on reducing overall energy consumption by using a sustainable energy supplier and integrating sustainable systems at the venue, such as an Integrated Building Automated System. Installations include a thermal wheel heat recovery system and an Ice Storage Thermal Unit, which chills water overnight to form large ice blocks that melt during the day to provide air conditioning for the entire building.
In order to help delegates to keep their journey carbon neutral, the CCD offers international visitors the opportunity to offset their carbon emissions from air travel using a carbon calculator. Should an organiser wish to explore how they can reduce the carbon footprint of their event, the CCD will look at this with them, using the consultancy Emission Zero.