Radisson Blu Hotel, Dublin Airport
For early morning ex-Dublin flights, where might you stay? Business Travel sampled the on-site 4-star Radisson Blu Hotel.
The snow was thick on the ground and the nation's infrastructure was grinding to a halt as I made the decision that in order to catch my early morning flight from Dublin the following day I would overnight at an airport hotel.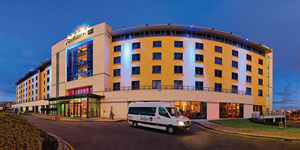 After a number of calls I selected the Radisson Blu because of its proximity to the airport and its provision of a complimentary shuttle service. I rejected a certain other property that told me that they operated a free shuttle from the airport but charged €1 to the airport, my reasoning being that any hotel that operates such a policy is not on the same planet.
The 4-star Radisson Blu Hotel, formally the Great Southern Dublin Airport Hotel, has 229 rooms with a choice of standard, business or family rooms. Non-smoking and rooms for the disabled are also available. There is ample parking with space for 380 cars.
After six calls to different taxi companies I got lucky and a taxi was with me within 20 minutes, and I set off for the Radisson Blu. Check-in was friendly and most efficient and, as I have a Radisson Blu Goldpoints Plus card, I was allocated a corner room on the fifth floor.
The room was most spacious and warm, particularly as it was -2ºC and freezing hard outside. The double glazing really works – you are not aware of the many aircraft taking off and landing on the nearby runways. Room amenities include tea and coffee making facilities, free Internet, and a trouser press. There is also a mini bar, from which a can of Coke will set you back €3.50 or a beer will cost you €5.00.
Dining ... Service
The only food outlet open in the evening is O'Dea's Irish bar, which has a dual function as a bar/ food area. I ventured into said area, which was busy, and waited to be seated … and waited, so I seated myself … and waited and waited. Trying to catch a passing waiter's eye was worse than a member of the English cricket team in Bangalore fielding a ball from Irish batsman Kevin O'Brien.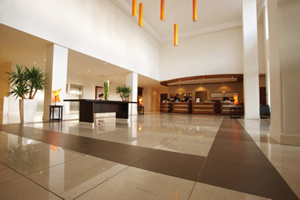 I seized the initiative, approached the front desk and liberated a menu. Having selected my meal I made some more semaphore signals to a passing supervisor, who was somewhat taken aback when I told him that I had waited 14 minutes trying to get service.
To be fair, he took my order at once and had my meal on the table in double quick time. The meal was adequate and I adjourned to my room, booked a wake-up call, and watched some television before testing the bed. This was most comfortable and the next I knew was my wake-up call spot on time – a nice touch was a repeat call within 10 minutes in case I had succumbed to more slumbers.
Breakfast made up for my previous dining experience and was an extensive buffet with all that any traveller would desire.
I checked out and took the complimentary shuttle to Dublin Airport.