Premium Economy Class
The global recession has encouraged airlines to introduce or upgrade Premium Economy cabins in recent years – thus enabling business travellers to obey new company travel policy restrictions without giving up all the perks of Business Class, while enabling leisure travellers to buy a little more comfort for a little more money.  Neil Steedman reviews what's on offer from 10 airlines.
A 2-3-2 configuration and a spacious seat with good pitch, width and recline, a large personal wide-format video touchscreen with Audio-Video On-Demand (AVOD), laptop power point, and phone, as well as adjustable headrest, leg-support and footrest, coupled with complimentary hot menu choice, champagne and fine wines, priority boarding and disembarkation, and higher baggage allowance – sounds like Business Class, doesn't it?
But it's not. All these elements are to be found in the Premium Economy Class cabins of various airlines – albeit not all in the same airline cabin yet, but this is the benchmark to which new and upgraded cabins are moving.
Across the 10 airlines reviewed here, the seat configuration, pitch and width vary considerably, depending on airline and aircraft type (see table), but Qantas currently provides the longest seat pitch, at 106.7cm, and Virgin Atlantic's seats are the widest, at 53cm.
While eight airlines offer Premium Economy cabins, KLM and United Airlines have opted to introduce upgraded Economy seats, called Economy Comfort and Economy Plus respectively.
Aer Lingus, meanwhile, does not offer Premium Economy – but late last year the airline quietly stopped using the word 'Premier' for its transatlantic Business Class and we hear that a Premium Economy option is under consideration. Don't be surprised to see the class appear on transatlantic flights next year!
AIR FRANCE
In October 2009 Air France began phasing in Premium Voyageur cabins on almost all of its international long-haul network, with 72 aircraft (B747s, B777s, A380s, A340s and A330s) being fitted with around 1,800 new fixed shell seats. (The airline's four new A380s, currently operating the routes from Paris to New York, Johannesburg and Tokyo, offer just first, business and economy cabin classes.)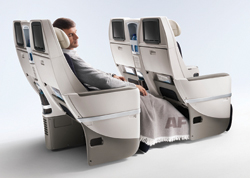 Air France Premium Voyageur
Airbuses have a 2-3-2 seat configuration, while Boeings offer 2-4-2 (but 3-3 with smaller seats on B747s).
The Premier Voyageur cabin provides 40% more individual space compared to Voyageur (Economy class). The 96.5cm (38") seat pitch, 48cm (18.9") seat width, and leather armrests all help to enhance comfort and sense of privacy – the seat will recline to 123 degrees without disturbing the person behind.
Each seat has a PC plug, a large tray for a laptop computer and a personal adjustable reading lamp. Premium Voyageur passengers are also given a travel amenity kit, feather pillow and pure new wool blanket (all identical to Business class), a personal bottle of water and noise-reducing headphones providing high quality hi-fi sound.
The menu, designed by chef Michel Nugues, offers a choice of two hot dishes and the accompanying champagne, wines and liqueurs are selected by sommelier Olivier Poussier. The inflight entertainment, including over 85 on-demand movies in nine languages and 17 games, is viewed on an individual 26.4cm (10.4in) interactive video screen.
Premium Voyageur service also provides priority check-in desks (available at certain airports), an increased baggage allowance (identical to Business class), boarding at your own convenience, and priority baggage delivery on arrival.
Flying Blue frequent flyer programme members receive 25% bonus miles and gain quicker access to a higher tier level. Subject to certain conditions, miles can be used to upgrade from Voyageur (Economy) to Premium Voyageur.
AIR NEW ZEALAND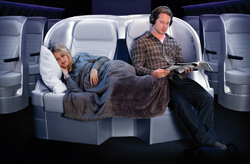 Air New Zealand Premium Economy Spaceseat
Air New Zealand's Pacific Premium Economy has 36 seats in a 3-3-3 configuration on B777-200ERs and in 3-2 or 2-2 on the upper and lower decks of B747-400s.
A new Premium Economy Spaceseat will be available on B777-300 aircraft flying selected services to and from London (via Los Angeles) from April 2011. The seat will be progressively rolled out until completed in 2012. The seat area will be more spacious and when you recline the seat also slides forward. Spaceseats through the centre of the cabin have been designed for couples to share.
In addition to meals service, food items can be ordered using the inflight entertainment touch screens, which have 27cm (10.6") widescreen format, AVOD and multiplayer video gaming consoles.
ANA
ANA introduced its Premium Economy in 2002 and is available on B747-400 and B777-200ER flights from Tokyo Narita to four European destinations (Frankfurt, London Heathrow, Munich and Paris CDG) and five US destinations (Chicago, Los Angeles, New York, San Francisco and Washington DC). Since April 2010 it has not been available on ANA's new B777-300ER aircraft – initially on Frankfurt and New York routes but also, since 12th October 2010, on the daily service to London Heathrow.
The dining and drinks service is identical to that provided in Economy class.
BRITISH AIRWAYS
British Airways' World Traveller Plus is a private dedicated cabin with a maximum of five rows in 2-4-2 or 2-2-2 configuration and a larger seat with adjustable headrest, lumbar support, leg rest, more legroom and greater seat recline.
All seats have a personal screen, noise reducing headphones, laptop power, and in-seat phone. AVOD, with over 200 entertainment options and play, pause, stop, fast-forward and rewind, is available on all B747s and long-haul B767s and is currently being fitted to the majority of B777s. On other aircraft there are 18 or 12 channels. In-flight service includes complimentary newspaper, bar service and three-course meal.
Passengers get an increased baggage allowance of two free checked bags each weighing up to 23kgs and two pieces of hand baggage and priority disembarkment. Executive Club members earn Tier Points and a 25% mileage bonus.
A new World Traveller Plus cabin (pictured) is currently being introduced, the seat having an adjustable hammock-style headrest and increased recline. The video touch screen is 60% larger than the current screen, there are two USB ports and an RCA port, and an in-seat power socket.
The new cabin is already available on B777-300ERs operating selected flights to Chicago, Dubai, Delhi and Mumbai. Two more will enter service by end-2010, with further additions scheduled throughout 2011 and 2012.
EVA AIR
Eva Air debuted the world's first Premium Economy service, Evergreen Deluxe, in 1991 and introduced the service on its Taipei – Los Angeles route in November 1992. Recently, Eva Air introduced its new Elite cabin, which has 63 seats in a 2-4-2 configuration on B777s and B747-400 all-passenger aircraft. (B747-400 Combi's still have an Evergreen Deluxe cabin).
The Elite seat has a 96.5cm (38") pitch, 49.5cm (19.5") width, fully adjustable headrests, leg-support and footrest, 21.3cm (8.4") XGA high-resolution touch screens with AVOD, and laptop power socket. The shape-memory seats use unconventional cradle-style cushions, and the bottom cushion moves forward as the seat reclines.
Passengers have 28kg checked luggage (5kg more than Economy).
JAPAN AIRLINES
Japan Airlines introduced Premium Economy in December 2007 and now offers a 2-4-2 configuration on many B777-200ER and B777-300ER routes, including Tokyo Narita to London, Paris, Frankfurt and Moscow, and (from 31st October 2010) from Haneda to Paris.
JAL's Sky Shell Seat, which won the 2008 Good Design Award, is the world's first shell-shaped seat in Premium Economy class. The pitch is 98cm (38") and width 48cm (19"). The sliding seat-back design ensures private space is maintained when the seat in front is reclined.
There is a 22.86cm (9") personal TV screen with AVOD, laptop power outlet, and the seat tray accommodates a fully opened A4-sized laptop and a beverage.
KLM
Since December 2009, KLM has been offering an "upgraded Economy class" on all its intercontinental flights. Economy Comfort occupies the front rows of the Economy cabin and, depending on aircraft type, offers from 2-4-2 up to 3-4-3 seat configurations, extra legroom up to 86-89cm (34-35"), a seat width of 45.7cm (18"), and more recline at 15-18cm (6-7").
There are personal screens with AVOD on A330-200s, B777-200ERs and B777-300ERs – but no power outlets. The service in Economy Comfort is the same as in Economy class.
QANTAS
Qantas introduced Premium Economy in 2008 and it is now offered on all A380 and selected B747-400 aircraft operating from Sydney to nine cities, including London and (since 10th October 2010) Tokyo, and will add Frankfurt from 3rd February 2011.
The seat configuration is 2-3-2 (A380) or 2-4-2 (B747) and offers seat pitches of 96.5-106.7cm (38-42") in A380s and 96.5-101.6cm (38-40") in B747s. The 49.5cm (19.5") wide seats have ergonomic cushioning, adjustable headrest, leg support and footrest, and 22.9cm (9") recline.
Inflight service includes pre-takeoff champagne, orange juice and water, a Neil Perry-inspired menu with premium wines, and a self-service refreshments bar throughout the flight.
The 26.7cm (10.5") touch screens on A380s and 21.3cm (8.4") on B747s include AVOD.
Premium Economy benefits include priority check-in and boarding, and additional hand baggage allowance.
UNITED AIRLINES
United Airlines offers Economy Plus seating on B747, B777 and international B767 aircraft, and on all United Express explus flights, with more than 65 seats on each.
The seat configuration is 2-3-2 (B767), 2-5-2 (B777) or 3-4-3 (B747), with seat pitch up to 90.2cm (35.5"), width up to 44.5cm (17.5"), and 94cm (37") recline.
B767s and B777s offer individual inflight entertainment screens, but not AVOD.
Mileage Plus elite members qualify for complimentary Economy Plus seating on every flight. Economy Plus annual option subscribers have access to the Economy Plus section for the year.
VIRGIN ATLANTIC
Virgin Atlantic's newly enhanced, dedicated Premium Economy cabin has been designed to provide plenty of personal space – a place where you can relax, stretch out and unwind.
A340s have a 2-3-2 seat configuration, while B747s offer 2-4-2, and in some cases 2-2.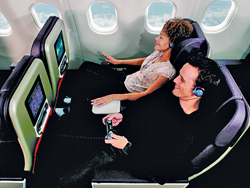 Virgin Atlantic Premium Economy
The new seat, available on all flights departing from London Heathrow, has an increased seat width of 53.34cm (21") and is the widest of all airlines' Premium Economy seats – indeed, it is equivalent to many other airlines' business class. The seat is covered in purple leather and offers ample legroom with a seat pitch of 96.5cm (38") and an additional two degrees of recline – as well as an adjustable lumbar support, a flexible headrest, a redesigned table, and a new footrest.
Laptop power is available on London Heathrow flights, but passengers need an onboard laptop adaptor pack – Virgin currently offers the Kensington Power Inverter for purchase via its Duty Free website.
A personal seatback TV offers latest blockbuster movies, TV shows, video games and up to 14 audio channels ranging from pop to classical. On A340-300s and some B747-400s the screen size is 16.5cm (6.5"), while on A340-600s and other B747-400s it is 22.9cm (9") and AVOD is also provided.
A preflight drink, complimentary newspaper and a three-meal menu are offered, served on china dinnerware with stainless steel cutlery, and completed with a liqueur and – later in the flight – a selection of fresh fruit.
There is a dedicated Premium Economy check-in, if not already checked in online, and a dedicated bag drop, along with priority boarding, disembarkment and baggage reclaim.