Two Road Warriors
Self-styled 'Woman road warrior' Kathleen Ameche in the USA, who regularly blogs 'For women going places', has announced 28th September 2011 as the 6th Annual Woman Road Warrior Day. Sheila Ryan asked two well-known Irish businesswomen for their top travel tips.
Danuta Gray, O2 Ireland
Business travel is often perceived as lonely and threatening for women, but seasoned business traveller Danuta Gray is quick to point out the advantages of getting away on your own. "I enjoy the peace and quiet you experience on an aircraft," she said. "As long as there's no turbulence I do enjoy the fact that you are not contactable and can do some thinking and reading."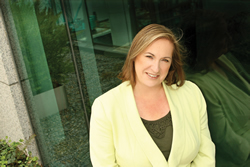 Part-time non-executive Chairman of O2 Ireland and a non-executive director of Aer Lingus and Irish Life and Permanent, Gray's career has taken her to Europe, the USA, Latin America, and the Far East. Although she loves exploring new countries, Gray admits she has sometimes felt uncomfortable as a woman travelling alone, particularly in far off locations. "You're a long way off, it's a strange environment and you can feel just a little bit vulnerable, for example when I was in Singapore and sometimes in parts of the United States."
Picking the right hotel is one way to make the experience of travelling alone more pleasant. "I don't like being in huge hotels when I'm on my own," she said. "There's nowhere to sit in the reception area and I don't feel comfortable being a woman on my own. Smaller boutique hotels tend to have little cosy corners where you can sit quite comfortably and read the paper on your own and not feel in any way strange."
Gray feels no compulsion to befriend her fellow travellers and would much rather dine alone than make conversation with strangers. "I always take a book or newspaper. It keeps me occupied and signals that I don't want anybody coming over to 'rescue' me from being alone – I rarely get lonely."
While she enjoys being in different countries, the getting there is what Gray dislikes. Even after countless flights she finds turbulence unsettling, and feels safer in a jumbo than one of Telefonica's private jets. "The bit I find frustrating is the airport queuing. Anything to do with security checks is very difficult these days. I find it really hard to pack all the deodorants, eye make removers and toothpaste in one of those plastic bags – that drives me potty."
Not even the plastic bag rule, however, would induce Gray to check luggage into the hold. "I just don't like hanging around waiting for baggage, and I like getting to the plane just before take-off." Instead she packs everything she needs into an old wheelie bag that she has had "for about 15 years". Gray has light packing down to a fine art. She selects only a few colours, so everything matches, and takes just one jacket, changing her dress or accessories to make different outfits.
She also chooses fabrics that can withstand a good squashing. "If you can scrunch things up or roll them up into a really tight little ball you can fit more in. Louise Kennedy does wonderful jersey dresses that never show a crease and they are absolutely perfect for travelling with."
The only obstacle to looking good for her meetings is the hotel hairdryer, which is typically small, noisy and hopelessly slow. "The ones that get it right have a proper hairdryer and you can find the damn thing, but you can still go to hotels where you can't use the hairdryers. They must have been designed by men. They simply don't get it. It's the little things."
Tanya Airey, Sunway Travel
Tanya Airey is Managing Director of Sunway Travel, which earlier this year was voted by the public as 'Ireland's Favourite Travel Agent'. Tanya also lists the hotel hairdryer as one of her business travel bugbears, and always packs her own.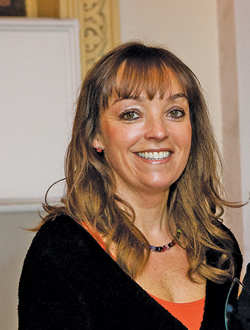 She also has more serious issues with hotels as a woman travelling alone. "Room numbers should be written on a key envelope and not mentioned aloud at reception so that nobody overhears your room number – that's really important," she said.
Hotels located in office areas, which tend to be deserted after dark, are strictly off the itinerary for Airey, and, like Gray, she prefers a small hotel, preferably in an affluent residential area, where the staff will get to know their guests and there are fewer people around. If staying in a big hotel Airey asks for a room near the lift. "Sometimes it is kind of scary walking down long corridors on your own."
Early mornings can be an unsettling time for lone women travellers, and Airey is careful to plan her early morning workout so that she feels safe. She uses the hotel fitness suite only if it is staffed. "If there's a gym I would have to be sure there's a gym attendant on duty, otherwise it's not a good thing going down there at 6.00 or 7.00 in the morning."
Likewise, if she goes for an early morning walk, Airey first asks whether it is safe and plans a route – and she tends to ask a waitress at the hotel rather than the concierge.
Like Gray, Airey values the time alone that business travel gives her, rather than seeing it as a negative. "When you are travelling it is tiring but it actually gives you a lot more time to think outside the box. When you're flying you have a chance to make plans and think because you've got a lot of time on your own."
Tanya's Tips
Location – book hotels in residential areas rather than business districts Think small – a small hotel is better when travelling alone because the staff get to know you Be prepared – keep a second credit card and a photocopy of your passport in your suitcase, so if your handbag is stolen you are not completely in the lurch Be taxi smart – make sure you are actually at the destination before you get out and pay while you are still sitting in the taxi Pack an extra outfit – you never know when somebody might spill a glass of red wine all over your clothes Plan ahead – for an important event or big trade show it could be wise to book a hairdresser in advance
Web Links
www.womentraveltips.com
www.womanroadwarrior.com
www.gutsytraveler.com